Cash for Cars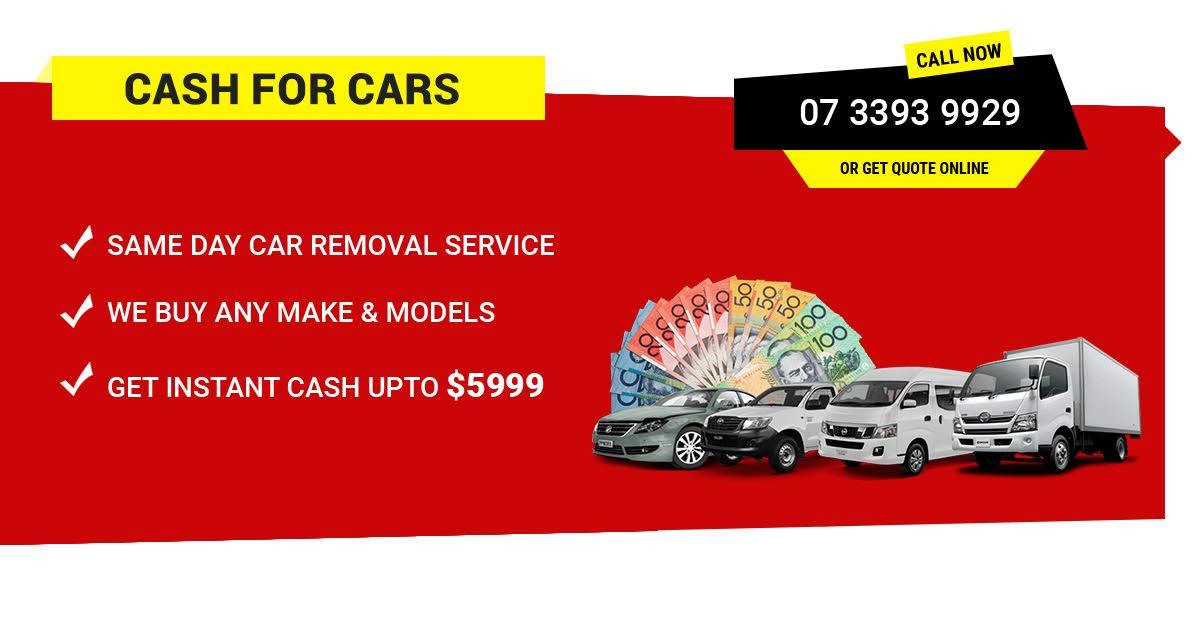 Brisbane's leading Used Car Buyers. Our Cash for Cars Brisbane Company is paying Up to $12'999 vehicles of all shapes and sizes. We buy cars, 4x4s, Utes, trucks and vans in any condition including:
Running or Not;
Licenced or not;
Fire or Water Damaged;
Accidental or Fine Condition;
Used or Old;
Scrap or junk;
Rusty or Leaking;
Engine Seized or Blown Head Gasket;
Brake or transmission failure;
Totalled, Smashed or Unwanted.
Fast, convenient and effortless. These are the attributes people expect from a good cash for car service when selling their junk car. Fortunately, with the help of the outstanding free car removal offered by Brisbane Used Car Guys, that's exactly what you will get. When you sell your car to us here at UsedCarGuys in Brisbane, you are selling to the best!
We are the premier Used Car Dealer outfit operating in Qld right now. We provide a superb, smooth and fast auto removal experience to the whole of Brisbane and its surrounding areas including Rocklea, Gold Coast, Sunshine Coast, Toowoomba, Ipswitch, Warwick, Logan, Mansfield, Coopers plains and Rockhampton 4700, Northside Brisbane.
Above all, we offer the highest cash quotes, with deals that are 100% guaranteed to be the best in town. Now every unwanted vehicle can be sold for cash, regardless of the level of damage or disrepair it has received. We will buy your car even if it has been hail damaged. Get in touch with us today to request a quick, and obligation free, cash quote.
Most-trusted Brisbane's local Cash for Car Service
If the financial burden of your vehicle repairs has gone far over its actual worth, it is wise to have it removed from your property. Obviously, you don't want to go through the hassles that come with selling on the private market.
It normally takes a long time to sell a car privately, but a junk car will take even longer. And it involves all kinds of hoops that you need to jump through, including placing adverts, cleaning the vehicle, and negotiating the price.
If you want it to be over quickly, while making good money at the same time, contact us today! You will experience the most fuss-free vehicle collection process. When trading with us you won't have to lift a solitary finger.
Our experienced and skilled Car Wreckers will arrange everything for you. From quick removals, ready paperwork to on the spot cash, you will get everything done for you while you sit back and relax.
Brisbane wide free auto removal and pick up
If your vehicle is in very poor condition, and is not roadworthy, don't procrastinate. Give us a call! Our collection services won't cost you a dime, regardless of where you live in Brisbane, or its immediate suburbs.
All you need to do is describe all the important information concerning your vehicle via phone, or via our web form. Our talented auto removal specialists will get back to you straight away, with a fair quotation. If you find it genuine, you can request a quick removal. Specify the time and location, and our crew will be more than happy to come to your place and haul away your old machine.
Sell your car for maximum cash
We have the most experienced team of assessors working here at UsedCarGuys. This is how we can pay such good prices for old cars. The most cash that we shell out for old, used and unwanted cars can go up to $ 12,999 for all types of models.
As we often buy junk cars, if your vehicle is no longer roadworthy, has no engine or for some other reason is broken down, don't worry. The automobile in question won't be rejected. In fact, we will happily buy it at a fair and accurate price.
We welcome all Brands – Makes – Models in any condition
Our well-insured, licensed and bonded squad of professional members are always keen to buy any type of vehicle, whether it be a Car, Van, Ute, SUV, 4WD, or truck. This is because the scope of our services is very advanced and we have efficient tow-trucks. So, whenever you sell us a vehicle, count on us to get top-notch service.
It isn't just different kinds of automobile that we will not hesitate to spend good money on. We are also in the habit of accepting any make or model of automobile as well. The reason for this is the fact that we believe the quality of our services exceeds that of everyone else in town. And we don't want anyone missing out on the opportunity to take advantage of our exceptional expertise and reliability. What better reason for accepting all makes and models, without exception.
Here are just of few of the makes that we will not hesitate to buy, regardless of what model it happens to be: Mazda, BMW, Ford, SsangYong, Audi, Fiat, Chrysler, Honda, Hyundai, Subaru, Suzuki, Skoda, Chevrolet, Daewoo, Peugeot, Renault, Jeep, Holden, Isuzu, Kia, Lexus, Daihatsu, Mitsubishi, Mercedes Benz, Nissan, Opal, Toyota and Volkswagen.
We are concerned with the Environment
When a vehicle of any kind is neglected and left in any one spot for a long time, it leaks fluids. Substances such as coolant, brake fluid, engine oil, and so forth, will make their way into the ground if you aren't careful. From there they can get into the ground water, and onward into the streams, lakes and rivers.
When we recycle vehicles, we are sure to drain all the toxic materials from them before we wreck them. Once this is completed, those materials can then be disposed of properly using clean green methods. Or they are recycled and used again.
You can also get peace of mind knowing that the recycling of metal from your car will reduce the need for mining for fresh ores that go into making steel. And as we all know, mining is a huge source of pollution and greenhouse gasses.
Get your vehicle assessed for free- with no obligations
Our Cash for Cars Brisbane Company is fully authorised with motor dealer & Wrecker licence so you can deal with us with 100% satisfaction. If you are eager to know how much money we will pay you for your vehicle, please make us a call today. Our free online quotes are always precise, genuine and unbeatable. Hence, you can freely sell us your vehicle for great value. So go on, drop us a line and get top cash for your car today!